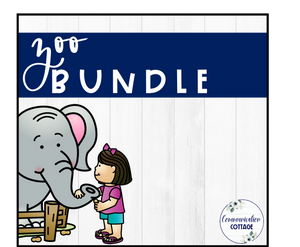 Zoo Theme Digital Bundle
Save WELL OVER 25% with this money-saving bundle!
Let's go to the Zoo! A complete set of resources designed by a licensed Speech-Language Pathologist to help you facilitate language opportunities and development in your speech room or at home with this set of resources.
This Money Saving DIGITAL Bundle has all of the resources created for this theme in one place!
Includes:
6 Adapted/Interactive Books (Value: $ 31.00)
Zoo Colors Book
I Know My Animals Book
I Spy Zoo Animals (Same/Different) Book
Big/Small Animals Book
Positional Concepts Book
I Can Count Zoo Animals Book (2 sets of icons)
Theme Guide + Recommendations (Value: $ 3.00)
Theme guide: play, sensory, gross/fine motor, cognition, emotional/social
Parent/Caregiver Handout: introduce the theme to the home/daycare provider by giving this one-page letter highlighting vocabulary that will be taught and helpful quick ideas to implement the theme in other environments and promote understanding.
Book + Play Recommendations: Like to add play items or books with your theme? I've compiled lists of my favorites with direct links (affiliate) to the resources to support your students without requiring you to have to search for #allthethings. Included are Amazon books, play items, and Usborne books.
Exclusive Handouts (Value: $ 2.00)
App + Educational Video List: a Compiled list of theme-related apps and kid-friendly videos to learn more about the vocabulary!
Skills + Standards List
Planning Calendar (Value: $ 1.00)

This one page printable is great to help you jot down ideas for your activities ahead of time. Don't like to plan in advance? Use this to track the activities you do each day to make sure you rotate some out and don't get stuck in a rut!
Vocabulary Cards (Value: $ 4.00)

Set of 20 Cards (including the cover) to teach labels for common zoo-related vocabulary words.
Movement Cards (Value: $ 3.00)

Incorporate gross motor movements into your zoo theme with this card pack!
Initial Letter Task Cards (Value: $

4

.00)
When given a clip art image children will choose between three letters to identify the letter the word starts with.
Figurative Language Cards (Value: $ 2.50)
Teach through various social scenarios based on a Zoo theme, (e.g. you want to go see the elephants, your friend wants to see the penguins, what do you do.) Also included in these cards are some forms of figurative language (e.g. explain monkey see monkey do). Comes in black and white and prints well on astro bright paper.
Coloring/Activity Pages (Value: $ 1.50)
Five printable activity pages.
Match Mats (Value: $ 3.00
2 Match Mats (12 icons each). real picture to clip art image and vice versa.
I'm Working for Cards (Value: $ 3.00)
Comes with the clip art coins to put on the templates. Great to use to help motivate your student who needs to see a visual. Start with 1:1 reinforcement and gradually build up to 10:1 as the student requires less and less reinforcement.
Terms Of Use: if the SLP that purchases this wants to make a copy for the parent of the child on the caseload; that is permitted. However, please do not copy this material for other SLP's as that would be prohibited.
Tag @Communication Cottage in any product posts you make on social media for a chance to be featured in our feed! It brings me joy to see my products being used by so many wonderful people! Keep sharing!
Connect with me: https://bit.ly/CCottage-Community Sign Up For Emails To Keep Up to Date on All Of The Newest Product, Tips, & Blog Content!