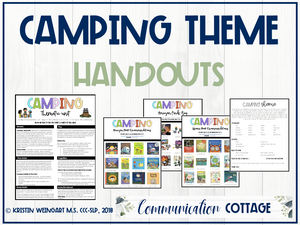 Camping Theme Guide
Camping: Theme Guide & Recommendations
This resource will help you feel prepared when starting a Camping theme unit with your students.
Includes 
-Theme Guide, emphasizing multi-sensory learning
-Usborne Book Recommendations
-Amazon Book Recommendations
-Theme Introduction Letter (for parents/caregivers)
-Amazon Recommendations to help facilitate play skill development
**This product is not editable**
Terms Of Use if the SLP that purchases this wants to make a copy for the parent of the child on the caseload; that is permitted. However, please do not copy this material for other SLP's as that would be prohibited.
Connect with me: 
Sign Up For Emails To Keep Up to Date on All Of The Newest Product, Tips, & Blog Content!
• Facebook • Instagram• Pinterest •
Tag @CommunicationCottage in any product posts you make on social media for a chance to be featured in our feed! It brings me joy to see my products being used by so many wonderful people! Keep sharing!  We are in need of more products in use pictures and would love your support!
Send Your Reviews/Feedback to support@communicationcottage.com
This helps us to know what you enjoy and what you'd like to see more of in future projects etc. We are always looking to provide what you need for your kids. 
Thank you for sharing your beautiful designs with the Education Community
Fonts: A Perfect Blend Teaching TPT Page // A Perfect Blend Teaching Blog 
Clip Art: Creative Clips & Whimsy Clips
__________________________________________________________________
Kristin Weingart, MS CCC-SLP
Speech Language Pathologist + Resource Designer
Communication Cottage, LLC
Featured in the November CommuniCrate (www.thecommunicrate.com)