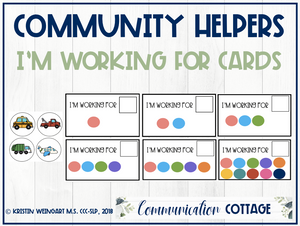 Community Helpers: I'm Working For Cards
Community Helpers: I'm Working for Cards. 
Comes with the clip art coins to put on the templates.  Great to use to help motivate your student who needs to see a visual.  Start with 1:1 reinforcement and gradually build up to 10:1 as the student requires less and less reinforcement.
Includes 
6 templates (in color and black and white)
1:1, 2:1, 3:1, 4:1, 5:1, 10:1
depending on the type of reinforcement schedule your student needs.
Recommend starting 1:1, student does one task and after gets 1 desired item and then slowly building it up so that the work/reward ratio advances.
DIGITAL DOWNLOADS ARE ALL SENT VIA EMAIL
(any problems accessing the file please contact support@communicationcottage.com)
**This product is not editable**
If you're interested in the full set of Digital Community Helpers Activities you may be interested in this money-saving bundle: Click Here To View
Terms Of Use if the SLP that purchases this wants to make a copy for the parent of the child on the caseload; that is permitted. However, please do not copy this material for other SLP's as that would be prohibited.
Connect with me: 
Sign Up For Emails To Keep Up to Date on All Of The Newest Product, Tips, & Blog Content!
• Facebook • Instagram• Pinterest •
Tag @Communication Cottage in any product posts you make on social media for a chance to be featured in our feed! It brings me joy to see my products being used by so many wonderful people! Keep sharing!
Don't Forget To Leave A Review!  Providing Feedback Helps Our Speech Community.
This helps me to know what you enjoy and what you'd like to see in future projects etc. to allow me to best provide value to you!
Thank you for sharing your beautiful designs with the Education Community
Fonts: A Perfect Blend Teaching TPT Page // A Perfect Blend Teaching Blog 
Clip Art:  Whimsy Clips TPT Page  //  Whimsy Clips  Webpage/Blog 
__________________________________________________________________
Kristin Weingart, MS CCC-SLP
ASHA Certified Speech-Language Pathologist 
Communication Cottage, LLC