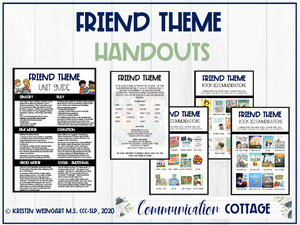 Friend Theme Guide
Includes a theme guide with activity ideas that emphasize key areas of development: play, social/emotional, gross and fine motor, cognition and sensory.
A parent/caregiver handout with vocabulary words to utilize at home and activity ideas to support implementation and carryover.
Book recommendations! This is such a fun part of this overall guide. Whether you are looking to purchase theme books on amazon or if you'd like to take this organized list to the library, you don't want to miss out on this all in one resource.
Can you believe there's more? Play recommendations are also an essential part of this resource. Research shows that children learn through play and it is a critical piece to every theme we implement. Hands-on, play-based instruction is meaningful and can make a difference. Get started with this all in one guide.
For app and video recommendations and a word list with vocabulary words organized by speech sound, you won't want to miss out on the Exclusive Theme Handouts for the friend unit (sold separately).