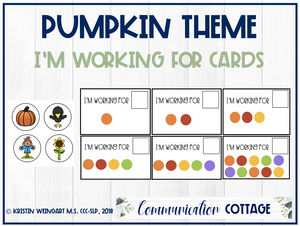 Pumpkin: I'm Working for Cards
Pumpkin: I'm Working for Cards
It comes with the clip art coins to put on the templates. Great to use to help motivate your student who needs to see a visual. Start with 1:1 reinforcement and gradually build up to 10:1 as the student requires less and less reinforcement.
Includes:
6 templates (in color and black and white)
1:1, 2:1, 3:1, 4:1, 5:1, 10:1
depending on the type of reinforcement schedule your student needs.
Recommend starting 1:1, the student does one task and after gets 1 desired item and then slowly building it up so that the work/reward ratio advances.
DIGITAL DOWNLOADS ARE ALL SENT VIA EMAIL and are not editable (any problems accessing files please contact support@communicationcottage.com)

If you're interested in the full set of Pumpkin Activities you may be interested in this money-saving bundle: Click Here To View

Terms Of Use: if the SLP that purchases this wants to make a copy for the parent of the child on the caseload; that is permitted. However, please do not copy this material for other SLP as that would be prohibited.
Tag @Communication Cottage in any product posts you make on social media for a chance to be featured in our feed! It brings me joy to see my products being used by so many wonderful people! Keep sharing!
Connect with me: https://bit.ly/CCottage-Community Sign Up For Emails To Keep Up to Date on All Of The Newest Product, Tips, & Blog Content!