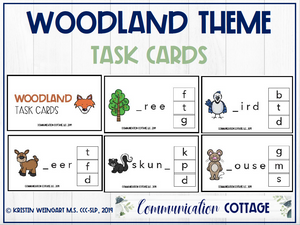 Woodland Task Cards
Woodland Theme: Phonemic Awareness Task Cards
Students can have the opportunity to engage with their letters with this hands-on phonemic awareness activities. They can indicate their answer by pointing, circling their answer with an expo marker, using a mini eraser/object or a clothespin to include a fine motor component to the educational activity.
Includes:
20 cards (including the cover)
High-Quality Clip Art
Answer Choice of 3 pictures
DIGITAL DOWNLOADS ARE ALL SENT VIA EMAIL
(any problems accessing the file please contact support@communicationcottage.com)
**This product is not editable**
If you're interested in the full set of Digital Woodland Activities you may be interested in this money-saving bundle: Click Here To View
Terms Of Use: if the SLP that purchases this wants to make a copy for the parent of the child on the caseload; that is permitted. However, please do not copy this material for other SLP as that would be prohibited. Direct others that are interested in this resource back to this product page for them to purchase their own copy. Thank you for respecting Communication Cottage, LLC's terms.
Connect with me:
Sign Up For Emails To Keep Up to Date on All Of The Newest Product, Tips, & Blog Content!
Facebook, Instagram, Pinterest
Tag @Communication Cottage in any product posts you make on social media for a chance to be featured in our feed! It brings me joy to see my products being used by so many wonderful people! Keep sharing!
Don't Forget To Leave A Review! Providing Feedback Helps Our Speech Community.
This helps me to know what you enjoy and what you'd like to see in future projects etc. to allow me to best provide value to you!
Thank you for sharing your beautiful designs with the Education Community
Fonts: A Perfect Blend Teaching TPT Page, A Perfect Blend Teaching Blog
Clip Art: Whimsy Clips TPT Page, Creating4 the classroom, Chirp Graphics
__________________________________________________________________
Kristin Weingart, MS CCC-SLP
ASHA Certified Speech-Language Pathologist
Communication Cottage, LLC