Blog — teletherapy
Posted by Kristin Weingart on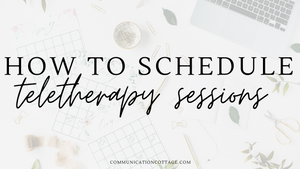 So you've been told it's time to start teletherapy but now how do you schedule all of your kids with as little stress as possible?  At least that was the question I asked myself... Calendly honestly was the solution that I was hoping existed.  And no I don't get paid to say that.  You can get started using it FOR FREE and that is important during this time where there is the possibility or financial hardship.  This blog post is a bit dry as it is intended for you to have pulled up as you go to create your account. ...
Posted by Kristin Weingart on

Okay, so it's no secret that this is the season of IEP meetings.  Unfortunately, COVID-19 happened at a time when we're super busy and have tons of things scheduled.  Now we need to make the decision of... do we proceed with a meeting or do we need to wait until we return.  Some districts have been able to get a waiver that pushes deadlines for evaluations and meetings.  In those cases, many of the school districts have not required their teachers to hold meetings as they can be done once they return to school. (FYI: seek out instructions from your own district as...