Blog
Posted by Kristin Weingart on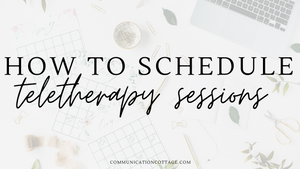 So you've been told it's time to start teletherapy but now how do you schedule all of your kids with as little stress as possible?  At least that was the question I asked myself... Calendly honestly was the solution that I was hoping existed.  And no I don't get paid to say that.  You can get started using it FOR FREE and that is important during this time where there is the possibility or financial hardship.  This blog post is a bit dry as it is intended for you to have pulled up as you go to create your account. ...
Posted by Kristin Weingart on

Earth day is celebrated worldwide on April 22nd.  It is a day when we pay greater attention to how we take care of the world.  Earth day began in 1970 and it now is celebrated in more than 193 countries. Disclosure: Keep in mind that some of the links in this post are affiliate links and if you go through them to make a purchase I will earn a commission.  I link these companies (amazon) and their products because of their quality and not because of the commission I receive from your purchases. The decision is yours, and whether or not you...

Posted by Kristin Weingart on

Schools have closed and now you have 24 hours if you're lucky to get individualized packets together... Schools closed and now you have 15 minutes to go in and grab your materials and leave... Schools closed and now suddenly you're a teletherapist. Schools close and... okay, okay, do you really need to re-live any of these moments?  No. No you don't.  If you're reading this chances are - you. are. exhausted.  You know that you want to reach your kids and their families but aren't quite sure how. In this blog post, I'm going to help you to systematize what...

Posted by Kristin Weingart on

Are you tracking your parent communication?  If you need a resource that organizes your parent contact all in one place, that you can set up in 5 minutes or less, you're in the right place.  In this post, I'll share with you all the steps you need to know in regard to how to create a parent communication log using google forms.   Choose to read the steps or watch the video below!  If you need a PDF step by step of the instructions below: CLICK HERE  *You can send this resource to ANYONE that needs it during this time!  It...

Posted by Kristin Weingart on

Okay, so it's no secret that this is the season of IEP meetings.  Unfortunately, COVID-19 happened at a time when we're super busy and have tons of things scheduled.  Now we need to make the decision of... do we proceed with a meeting or do we need to wait until we return.  Some districts have been able to get a waiver that pushes deadlines for evaluations and meetings.  In those cases, many of the school districts have not required their teachers to hold meetings as they can be done once they return to school. (FYI: seek out instructions from your own district as...